About the Band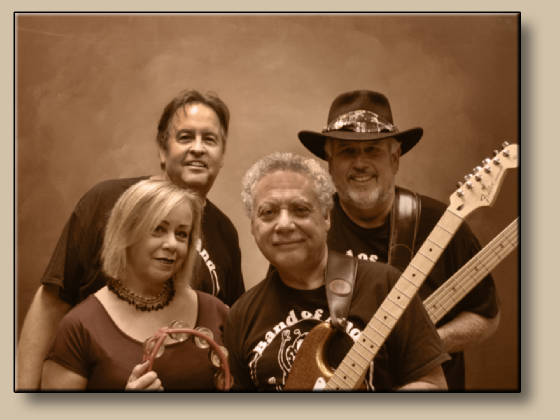 _______________________________________________________________________________________________
Liz "Lectric" & Richard "Rich" Gentile: Liz - Lead Vocals / Rich - Guitar, Keyboards ...... Liz is as vibrant a performer as they come, delivering her vocals with passion and verve. Her rich alto voice is as much at home with a sultry ballad as it is with a driving rock tune, visually and audibly she is the total package. Liz and Rich hail from Brooklyn, New York, making the move to Tampa in the early 90s. Pickin around with his first guitar at age ten, Rich never put it down, rather added to it with bass guitar, pedal steel guitar, and finally Keyboards. Country, Blues, R&B, Classic Rock, he's played it all, admitting that he has a real love for classic rock describing it as the music of his youth. Rich says lovingly, " I've had the good fortune of performing with Liz my wife of 35 years. She is an accomplished vocalist and sings straight from the heart and with a lot of soul. We always have a lot of fun with it, and when she belts out her favorite Stevie Ray Vaughn, I get goose bumps". Rich as well as Liz have played locally with the Streetwise Band and the Tonebenders at some of Tampa's most renown hotspots. Rich is the consumate tasteful player.
Steve "Senator" Sperry: Vocals, Drums / Percussion, Keyboards, Electric Flute ..... A member of the New Puddin Basin Group, a well received sixties cover band that played the Florida circuit, including some of the old Tampa landmark night clubs, Steve has sustained a life long creative effort and kept his hand in the local music and art scene. He formed a cover and original material band, Wunderbred, in the mid 90s that enjoyed some limited exposure. He continues to work on his own and with fellow musicians on original projects. Influences are ecclectic, including: Herbie Mann, Tim Weisberg, Billy Preston, Dean Martin, "Zep and Floyd", the Beatles of course, Tool, Primus, the Kinks, Outkast, Mars Volta, everything Motown, Alison Krauss, and a'capella Barbershop Quartet music.
Marvin "Hey, Buddy!" Lovett: Keyboards, Vocals ....... Coming from a musical family, Marvin started playing piano at age 6. He studied music in depth throughout secondary school and college, and has played professionally in a wide variety of musical settings: various groups at Busch Gardens Theme Park, Tampa, Fl.; very successful top 40/rock bands (including: Crystal Image Band , Jaxsonville Beach, Fl. for 5 years, 5 nights a week ); and the highly successful Reggae/Caribbean band Both Worlds, at the former Adam's Mark Resort on Clearwater Beach, Fl. for 10 years, 6 days a week. Marvin is also a music director/pianist/composer for high school and community musical theatres. Keyboard and vocal favorites include: Billy Joel, Maurice White of Earth, Wind and Fire, Todd Rundgren and the Beatles.
Former Members: Richard "Papi" Maney, Bert "M-Town" Hoernschemeyer, Charlie "the Thump" Velez
---
---